What Should I Do If A Hurricane Approaches
6/9/2021 (Permalink)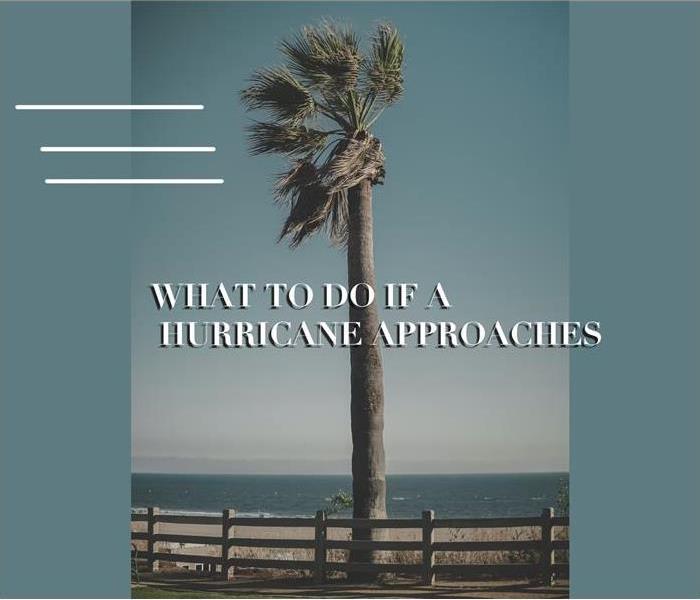 It's hurricane season once again, and that means an increased risk of high winds and heavy rain – even for folks not directly in the path of these giant tropical storms. A few particularly nasty hurricanes of late have people wondering what they can do in the event of an incoming disaster.
Here are a few tips to protect your home – and your family – from an approaching hurricane:
Make a Hurricane Readiness Plan
A hurricane readiness plan is hands-down the best way to ensure safety in the event of a disaster. This is something you can plot out today, even if there's no immediate risk of storms (in fact, that's probably the best time to do so).
A simple guide for creating your own readiness plan is available at ready.gov. You'll want to cover important topics like where to find shelter and which evacuation route to take, and practice your plan with the rest of the family. Ready.gov even provides PDFs of wallet-size cards that you can print out, fill out, and keep handy at all times.
Shut Off Your Home's Electricity
Electrical wiring can easily be damaged by powerful winds and flying debris, making appliances unsafe and potentially sparking fires. If you're in a flood-prone area this step is especially important, as pools of electrified water are incredibly dangerous.
Protect your home by turning off the electricity at the main circuit breaker, which is often located in the basement or garage (some of the first places to flood when water levels rise). You'll generally want to leave the power off until local authorities advise that it's safe to turn back on – better safe than sorry!
Cover Doors and Windows
Both doors and windows are extremely vulnerable to damage from wind and airborne debris, and can allow water to flood your home if breached. Plywood boards are the go-to quick-and-cheap solution, though accordion-style storm shutters are more durable if you have enough time to get them installed. You might also consider picking up some "hurricane film": a clear plastic peel-and-stick solution that won't provide much damage resistance but can keep glass shards from becoming deadly projectiles.
Garage doors are particularly at-risk, since they have a large surface area and are usually pretty flimsy. If you're planning well in advance, impact-resistant steel doors are available, though they can be pricey. Otherwise, a few 2x4 boards anchored in the walls can provide some extra bracing with fairly little notice.
Stock Up on Emergency Supplies – and Consider a Shelter
Major storms can have a serious impact on infrastructure and utilities in the short-term, so you may not be able to easily pick up food, medicine, and other basic needs in the immediate aftermath of a storm.
If the weather is looking pretty serious (and especially if your area has been issued an evacuation warning), understand that there's nothing more you can do by staying put. Head to the shelter you've chosen when making your readiness plan and ride out the storm in safety.
For storm damage repair, flood draining, and more, SERVPRO of Fontana is the name you can trust. Call us today at (909) 357-4337 and let us know how we can help.