6 Reasons Community Leaders Recommend SERVPRO of Fontana
9/12/2022 (Permalink)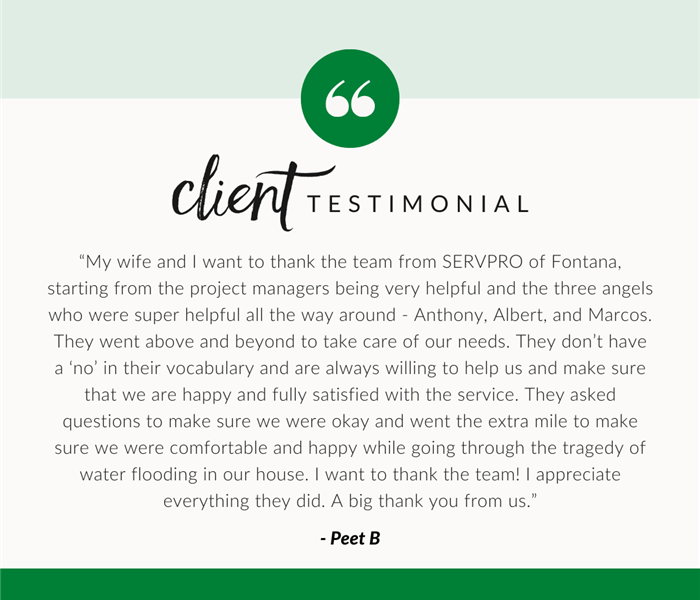 "My wife and I want to thank the team from SERVPRO of Fontana, starting from the project managers being very helpful and the three angels who were super helpful all the way around - Anthony, Albert, and Marcos. They went above and beyond to take care of our needs. They don't have a 'no' in their vocabulary and are always willing to help us and make sure that we are happy and fully satisfied with the service. They asked questions to make sure we were okay and went the extra mile to make sure we were comfortable and happy while going through the tragedy of water flooding in our house. I want to thank the team! I appreciate everything they did. A big thank you from us." - Peet B.
Immediate Response
More often than not, disaster strikes without warning. No warning means no time to prepare, leaving you in need of professional help as quickly as possible. At SERVPRO of Fontana, you can count on us for an immediate response 24 hours a day, seven days a week. We understand the importance of taking charge of the situation fast with effective techniques for long-term solutions following any disaster.
Exceptional Customer Service
We value each of our clients, big or small. We strive to provide the best customer service available because we understand the stress that comes with any disaster to your home or business. Our professionals work hard to make sure you are satisfied and receive nothing short of exceptional service to alleviate as much stress as possible.
Organized Every Step of the Way
Between our project managers, technicians, and everyone in between - you can count on us to set a higher standard of organized solutions. We go into every service with a strategy and plan to identify the source of a problem and resolve it quickly and effectively to prevent further damage.
State-Of-The-Art Equipment
Each of our technicians is highly trained in utilizing a variety of state-of-the-art tools and equipment to meet any remediation, repair, or cleaning needs. Restore your home or business with the best technicians and equipment available.
Highly Trained and Educated Technicians
Each of our team members has been extensively trained in identifying problems, their sources, and the most effective solutions to resolve problems, repair damages, and prevent further damages. We ensure that each and every one of our technicians has the skills and the tools to provide great services to commercial and residential properties - big or small.
Faster to Any Disaster
We provide 24-hour emergency services to residents in Fontana, California and the surrounding neighborhoods and are dedicated to being "faster to any disaster." Are you in need of emergency service? Call now at (909) 357-4337.