5 Tips to Keep Your Garage from Flooding
5/16/2017 (Permalink)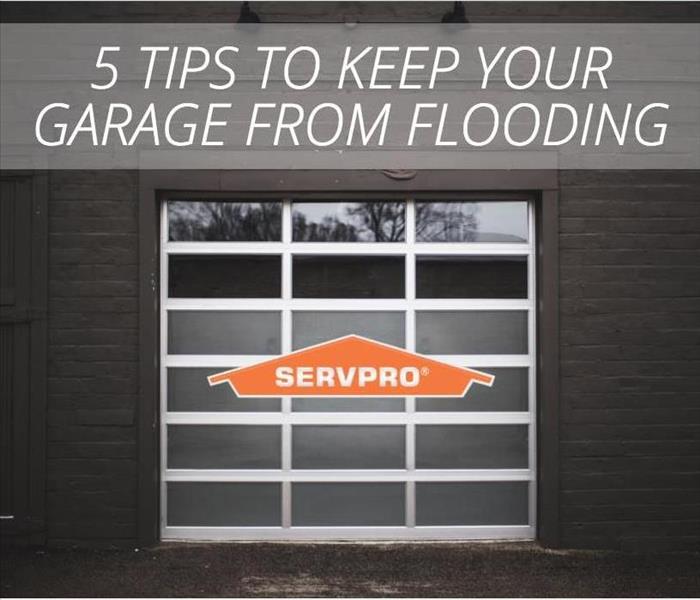 5 Tips to Keep Your Garage from Flooding
When stormy weather or snowmelts cause floods to approach your home, your garage is usually one of the first places at risk. Without preventative measures, a flooded garage can easily cause thousands of dollars in damage – or worse.
Check out a few of our top tips to keep floodwaters safely out of your garage:
1) Improve Drainage Around Your Home
While public streets are fitted with drains that usually handle any overflow, they can easily be overwhelmed in a serious flood, causing water to back up onto your property. You can take steps to improve drainage immediately around your home by installing low-key French drains that route water underground and away from the house.
2) Maintain Your Home's Weather-Stripping
Those little strips of rubber or vinyl at the bottom of your garage door serve an important purpose: they form a seal strong enough hold against moderate water pressure, and can prevent minor floods from entering your home. But weather-stripping does wear down over time, especially as it's exposed to the elements. Check it for cracks or other signs of damage, and be prepared to replace it regularly.
3) Have Your Foundation Inspected
Water doesn't need a grand entryway to get into your home – even the smallest crack in a foundation will do. And a slow groundwater drip can cause real damage over time, not to mention the threat posed by a sudden flash flood. These cracks are often barely visible, so if you have any concerns about your foundation, it's best to call in a professional to do the inspection and repairs.
4) Install Flood Vents
As tough as garage doors may look, they aren't built to withstand pressure – and raging floodwaters pack a lot of force. Flood vents allow a controlled flow of water to pass below your home, relieving pressure and preventing serious damage from occurring. If you live in a particularly flood-prone area, these may be a smart investment.
5) Set Up Barriers
It may not be the prettiest solution, but if a flood is approaching there's no time to waste in setting up physical bariers. Sandbags are commonly used due to their low cost and high effectiveness, but you can often find inflatable or constructed alternatives at home supply stores.
Don't let a little bad weather ruin your garage. For water damage restoration and repair, call SERVPRO of Fontana today at (909) 357-4337.